PAST EVENTS
PIESA Webinar: 14 Oct 2021
14 October 2021
@ 10h00 – 12h00 SAST. The below topics were covered:
IPCC 6th Assessment Report presented by

Dr Troy Govender

, Chair, PIESA Environmental Management and Safety Advisory Committee
Policies for a just (energy) transition in South Africa presented by

Gaylor Montmasson-Clair

, Senior Economist, Sustainable Growth, Trade and Industrial Policies Strategies (TIPS)

Challenges for a just energy transition presented by

Daniel Chavez

, Economic Justice Programme, Transnational Institute (TNI)
The Webinar moderator will be Vally Padayachee , PIESA Executive Officer and AMEU Strategic Adviser.
This session was ECSA CPD accredited.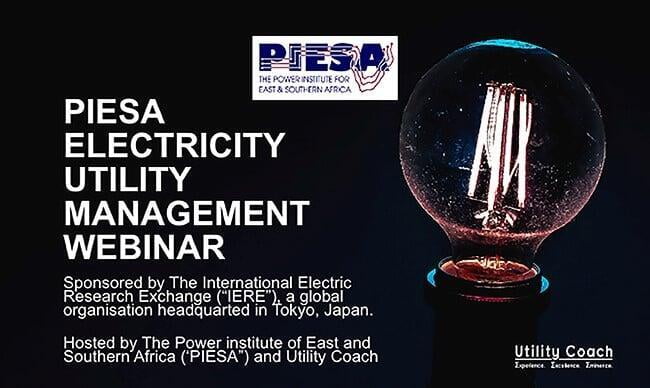 The training course is tailored to cover utility management essentials for utility participants that have an intermediate utility management knowledge, with some practical utility experience in the wires and retail business.

This is an e-learning course covering the first window of the complete Utility Management curriculum and will be conducted over a period of 2 weeks and 7 sessions. Each session will last for approximately 1 and half hours. 24 February to 8 march 2021 from 17h30PM to 19h00PM CAT.
The course will be presented each day at the same time. Learners can register for all or individual courses but need to preferably register for a cluster to ensure full understanding of the anticipated learning objectives of the session. Where sessions are in sequence, the follow-up session will commence with a short summary of the previous learnings as an introduction and scene setting. The Lecture will remain open for a predetermined time for PIESA Utility members to pose practical utility questions as learnings to be presented to Utility Coach. Arrangements with Utility members will be made by the PIESA secretariat to facilitate interaction with Utility Coach.
2019 General Meeting and PIESA-IERE South Africa Forum

Electricity & the 4th Industrial Revolution – an Africa perspective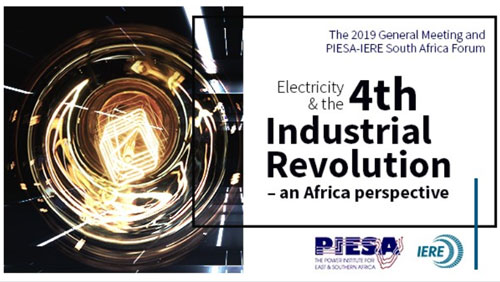 IERE VISIT TO SUN CITY - NOV 2018